In recent days, Central seaports have been busy loading and unloading tens of millions of tons of goods, but still do not forget to ensure safety against the Covid-19 epidemic. It is forecasted that cargo will increase in the coming time, many seaports are also planning to invest in building new piers and expanding capacity.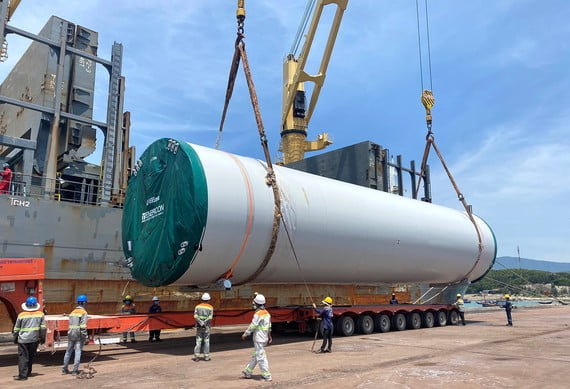 The volume of goods is continuously increasing
According to Binh Dinh Provincial People's Committee, in the first 6 months of 2021, despite the impact of the Covid-19 epidemic, the volume of goods through Quy Nhon port has reached 7.2 million tons.
Similarly, Director of Quang Ngai Port Authority Le Van Luong said that in extremely difficult conditions due to the Covid-19 epidemic, cargo handling and working activities at Dung Quat ports are still maintained. stable, commodity productivity continuously increased; The first 6 months of 2021 reached nearly 3.6 million tons, reaching 67.1% of the year plan. In which, the amount of imported goods increased sharply by over 1.1 million tons, domestic goods over 1.6 million tons.
In Ha Tinh, the Director of Vung Ang Customs Branch Cao Duc Thang said that Formosa is promoting the import of raw materials and materials for steel production such as coal, iron ore, alloys, etc., through two Vung Ang ports. belonging to Vung Ang Economic Zone) and Son Duong port, creating bustle in this deep-water port.
At Cua Lo port, Nghe An, Deputy Director of Cua Lo Port Yen Van Phuc said that the total volume of goods through the port in the first 6 months of the year is expected to reach 2,350 million tons, up 27% over the same period last year. .
According to Director of Quang Binh Port Authority Nguyen Duc Tung, Hon La deep-water port is the receiving place for goods for wind power projects in Quang Binh and a series of projects in Quang Tri province, so the capacity to receive goods increased by 112%. compared with the same period. "We have both implemented the prevention of the Covid-19 epidemic while ensuring safe loading and unloading of goods," said Mr. Tung.
Promote investment in upgrading
However, the excitement poses the problem of upgrading and expanding seaports in the Central region. Dung Quat seaport area (Quang Ngai) has a plan to 14 ports, currently 8/14 berths are in operation. The Government has approved the planning to develop Dung Quat port into a general and container port; increasing the capacity to receive ships at ports and wharves to 50,000 tons with container ships with a capacity of up to 4,000TEU (1TEU = container).
Director of Quang Ngai Port Authority Le Van Luong said that currently, the demand for loading and unloading goods and sea transport of enterprises is increasing, while seaports and ports have not been synchronously invested and not yet fully invested. upgrade should be overloaded.
For Binh Dinh, the Provincial People's Committee has just proposed to the Ministry of Transport and the Vietnam Maritime Administration to add Long Son international general port (My An commune, Phu My district, Binh Dinh) to the detailed plan of Nam Trung seaport group. Ministry and master plan on development of Vietnam's seaports (2021-2030). It is expected that Long Son international general port will cover an area of ​​over 340 hectares, with a total capital of nearly 9,000 billion VND, with 14 ports from 50,000-250,000 tons; loading and unloading capacity is about 29.5 million tons.
Meanwhile, Quang Binh province has a policy of building Hoang Long general port on an area of ​​16.8ha in the North Hon La port area, building Dat Phuoc Vi general port near this area. Along with that, the Quang Trach I and II thermal power plants are also planned to be built at Mui Doc, Hon La; which includes a specialized port for loading and unloading coal from super-large ships, in order to serve electricity generation of the Electricity of Vietnam (EVN).
Nghi Son Port, Thanh Hoa has 21 operating berths, in which, PTSC Thanh Hoa General Petroleum Service Port of Nghi Son port system has successfully received ships with tonnage of up to 70,000DWT. Resolution No. 58-NQ/TW of the Politburo (August 5, 2020) on "Construction and development of Thanh Hoa province by 2030, with a vision to 2045" states the goal of completing Nghi Son port into a port. 1A, contributing to turn Thanh Hoa into one of the key ports for seaport transportation in the country.
With the central seaport system becoming more and more bustling and methodically expanded, it will create a growth momentum through the push for customs clearance in this area.
According to SGGP
CONTACT INFO

TT EX-TRANS'S MAIN OFFICE

77 Dao Duy Anh, Ward 9, Phu Nhuan District, Ho Chi Minh City

ttextrans@thanhtrungcorp.com.vn